Transition Town Louth

Lincolnshire
---
Transition Town Louth is an inclusive grouping of people who recognize the reality of Peak Oil and Climate Change, but are determined not to cry doom and gloom into their beer but rather develop the transition to a sustainable community, resilient in an uncertain future, where the quality of life in our lovely town is maintained and improved. To find out more about Transition Towns in general please take a look at the national Transition Town Website and Transition Culture. An excellent introductory read is What we are and what we do, by Rob Hopkins and Peter Lipman. To find out more about Peak Oil, The Oil Drum is a good place to start and Real Climate is the leading net resource for climate science.

To contact Transition Town Louth,Send Mail
---
Next meetings of Transition Town Louth:

Thursday 19th February at 7.30pm at The Woolpack, Riverhead, Louth





Last meetings

Thursday 19th January 2015 This was the Annual General Meeting
---
Fulmar Drive, a Case Study in New Housing from Louth, Lincolnshire.
In Louth, Lincolnshire, there is a proposal for a new housing development, 149 dwellings on a green-field site on the edge of the town. Although initially opposed by both the Town and District councils the developer now has outline planning permission and has submitted detailed plans to the local authority, East Lindsey District Council (ELDC). An overview is provided by Taylor Wimpy here and the planning documents are available here.
Of course all such developments are controversial, concreting over the English countryside, people have got to have somewhere to live, NIMBY, the town needs growth to survive, too much traffic, there will be a playground for the kids... and the rest.
But let's leave all that aside for now and, for the sake of discussion, accept that new houses will be built on this site and consider whether these are the right sort of houses. Climate Change and Building Regulation
Global Warming implications
The 2008 Climate Change Act commits the UK to to reduce greenhouse gas emissions by at least 80% in 2050 from 1990 levels. The Paris climate conference in December 2015 may well produce even stronger commitments. Such reductions will require, with legal force, that fossil carbon is no longer used to heat our homes. How then, will the people in the new homes on this development be kept warm?
Building Regulations only require that new houses comply with Code 3 of the Code for Sustainable Homes, with some local authorities insisting upon code 4 In December 2006, the UK Government promised that all new homes would be 'zero carbon' from 2016 but that promise is no longer likely to be fulfilled. East Lindsey District Council are not currently minded to require 'Code 6', which would make the homes close to 'zero carbon' and similar to the German Passivhaus standard.
We have an emerging contradiction: houses are about to be built which will soon become unusable without significant modifications if legally binding climate change legislation is to be complied with.
Our Proposals
To minimise greenhouse gas emissions and consequent climate change potential the development needs to be as low-carbon in both construction and use as possible. The current proposals are for an essentially 20th century approach to building, using concrete block and brick walls mortared with Ordinary Portland Cement (OPC) on heavy concrete foundations. Building orientation is not related to solar gain and no solar panels are integral to the construction. Heating is assumed to be by gas central heating with now provision for renewable energy sources planned.
Our proposals call for a low-carbon approach to construction. All mortars should be lime based, using hydrated lime for most above ground situations and naturally hydraulic lime (NHL3.5) for footings, drains and other sub-surface and wet situations. The buildings should be timber famed with straw-bale wall infilling. The roofs should be predominantly south-facing single slopes covered with solar photo-voltaic and solar thermal panels integral with the construction. Window orientation should maximise solar gain. These measures will eliminate almost all need for heating.
The remaining heat requirement can be met in a variety of ways and for security of supply it may be wise to consider more than one energy source. Let us look at the possibilities.
Biomass boilers, either fuelled by pellets, woodchip or logs, are likely to deliver too much heat for one highly insulated house, but if supplying a larger building comprising more than one home, might be appropriate. In the current proposal there is no provision for the siting of a plant room.
Ground-source heat pumps have also not been considered in the current plans. There is no provision of a collection area within the site but the purchase of the arable land to the north and east would allow an extensive array which could be linked either to individual properties on those sides of the estate or as part of a district heating scheme, perhaps in conjunction with a medium-scale biomass boiler to provide hot water for under-floor heating throughout the site.
Heat pumps require an electricity input, though with a large system an efficiency ration approaching 4 should be achievable. If each house has installed solar pv capacity of 4kW, generating an average of 10kWhr/day there will be more than enough net surplus of electricity to supply household needs and drive heat pumps, averaged over the year. In practice there will be a larger surplus in summer and a deficit in winter. Wind power, which is larger in winter than summer, should therefore be part of the mix. If the adjoining fields were included in the scheme there would be space for sufficient medium-scale wind turbines. Alternatively, and to allay the fears of those who find proximity to turbines undesirable, a funding scheme could be initiated that supported investment in off-shore wind farms. That part of the cost of the building that might otherwise be designated for heating could be invested in the wind industry on, say, the Dogger Bank.
Air source heat pumps are less efficient than ground source but have the advantage that they do not require a large area of land. However they do also work best in conjunction with under-floor heating systems where lower temperatures than conventional radiators are appropriate. There appears to be no provision for this in the current plans and retro-fitting would be expensive.
Whatever the mix of energy supply decided upon, the developer should demonstrate how the buildings are to be heated without the use of any fossil carbon for the lifetime of the building.
Land use
The proposed development has a high density of housing allowing for only very small gardens. We would prefer to see a lower density and larger gardens that could provide greater resilience for the community in an uncertain future when the ability to grow one's own food could be a significant advantage. An alternative might be to incorporate the neighbouring land to the north and east, not only for ground-source heat gathering but also to provide allotment land for the residents. The loss of agricultural land would be more than compensated for by the increased productivity per unit are that labour-intensive allotment gardening has over industrial agriculture. Enough land to grow a significant proportion of household food would be a valuable contribution to the sustainability of the community.
---
---
April 2014 was the first month in which CO2 concentrations topped 400ppm at Mauna Loa.

More graphs from the Mauna Loa observatory here.

---

Fracking in Lincolnshire

All the Latest News

---

Transition Town Louth launches campaign to bring Marcus Vergette project to the Lincolnshire Coast.

A permanent installation of 12 bells around the U.K. rung by the sea at high tide.

This project is to make a permanent installation of the Time and Tide Bell at the high tide mark at a number of diverse sites around the country, from urban centres to open stretches of coastline. The rise of the water at high tide moves the clapper to strike the bell. Played by the movement of the waves, the bell creates a varying, gentle, musical pattern. As the effect of global warming increases, the periods of bell strikes will become more and more frequent, and as the bell becomes submerged in the rising water the pitch will vary.

The first bell was installed in July 2009 at Appledore, Devon: the second on Bosta beach Gt. Bernera, Outer Hebrides in June 2010: the third at Trinity Buoy Wharf, London in September 2010: the fourth installed in Aberdyfi, Wales, July 2011. A fith is being installed on Anglesey and our Lincolnshire coast could host the sixth.

The integrity of the Time and Tide Bell project nationally is in the choice of the sites and how they connect. The Time and Tide Bell is to create, celebrate, and reinforce connections, between different parts of the country, between the land and the sea, between ourselves, our history, and our environment. Each of the sites bring something particular and unique to the whole group. The sites presently under development for installation this year are Orford Ness and Aberdeen.

"This is an inspired project. The link between ourselves and the elements are in danger of being lost in our 21st century life. The importance of that link, given climate change, is more important than it ever has been and such a beautiful reminder of the importance of tides and sea levels is truly inspirational." Baroness Miller of Chilthorne Domer, House of Lords.

---

Transition Town Louth is bringing the sixth Time and Tide Bell to Lincolnshire's coast, a proposed Marine Conservation Zone, is an art project by sculptor Marcus Vergette that draws attention to our littoral position between two contrasting environments of land and sea. The off-shore habitat has been neglected in the past but holds a large part of Lincolnshire's wildlife, perhaps half our species. The Bell seeks to enhance our relationship with it, considering the implication of global warming for sea level and marine life.

Transition Town Louth's Biodiversity Campaign is run by an inclusive group of people who recognize the reality of Peak Oil and Climate Change, but are determined to be optimistic and work to develop the transition to a sustainable community, resilient in an uncertain future, where the quality of life in our town and countryside is enhanced for both people and wildlife.

---

Pro Wind Alliance

Transition Town Louth is now affiliated to the Pro Wind Alliamce. This is a group of organisations across the East Midlands that are seeking to promote the use of renewable wnergies and, in particular to counter the anti-windfarm lobby./p>

Here is our Lincolnshire Pro Wind Alliance Blog/a> and you can join the conversation at the Yahhoo Group, ProWA.

---

Transition Free Press will be a quarterly, 16 page, full colour, tabloid size newspaper. The mission is to report and reflect on the transition to community resilience. It will provide a sense of reality and will confront and evaluate issues.

It will be editorially independent and 'working with' rather than 'working for' the Transition Network. So while Transition Free Press springs from the Transition Movement, it will run alongside it, rather than being an official in-house publication.

While the various forms of online and digital media have an important role to play is spreading Transition ideas, there is still a gap that only print can fill. While people dip in and out of news online, in print they can take time to read and reflect. By being in print, Transition Free Press can be read anywhere and reach places and at times that digital media cannot reach.

---

Thursday 16th October at 7.30pm at the Trinity Centre, Eastgate, Louth.

Film:- Trashed

---

Transition Town Louth's Newsletter

Click to download

---

---




The blue line, updated daily, shows the extent of sea ice. The extent of Arctic ice is, over several years, a good indicator of global warming. There is variability from year to year depending on the weather, storms breaking the ice up and spreading it about. After a strong melt year the ice regrows quickly as the water is not insulated by a layer of ice, so the following year is usually a weaker melt year. On the other hand, water has a much lower albedo than ice so absorbs more solar energy and reflects less. Open water therefore warms quickly in summer. The Antarctic sea ice pretty much all melts and regrows each season. In recent years there has been an increase in its area. Several factors contribute. Increased melting on the land glaciers is making the sea surface less saline, allowing quicker freezing of the sea surface. Increased rain and snow fall resulting from the greater water content of a warming atmosphere also contributes to this reduction in salinity. Increased wind speed resulting from greater temperature gradient between the Antarctic interior and the surrounding ocean help spread the ice out, increasing it's overall area. Thus increased Antarctic sea ice is an expected freature of a warming planet

The last few years have seen summer melting that far exceeds recent forecasts and raises the serious possibility that some global climate models are not giving the right results - with the errors all on the bad side.

---
Tradable Energy Quotas
Download the Report.
---
Dr David Fleming's book 'Lean Logic - A Dictionary for the Future and How to Survive It' is published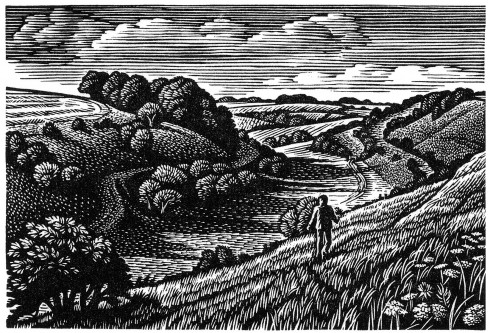 For the last 25 years David Fleming has visited Louth every summer spending a few days working on his book, sometimes in our garden, sometimes with a pint of Tipsey Toad at the back of the Wheatsheaf. On the way, as a major influence on Rob Hopkins, he was instrumental in starting up the Transition movement. In the last couple of years he gave memorable talks to Transition Town Louth. It was in Louth that he met his two research assistants, Beth Stratford and Beth Barton, who have done so much to bring his life's work to fruition.
Rob Hopkins writes on his blog: "Following his death, his family and friends have set to the task of making sure that his life's work does finally see the light of day, and I'm delighted to announce that copies will soon be available. I'm delighted, as would he have been, to know that his insights, his humour and his brilliance, are now more widely available. I've already ordered mine…"
The book is printed in a hardback first edition of 500 copies, comprising David's final draft, comprehensive footnotes, bibliography and references and many wonderful wood cuts and illustrations. All proceeds from sales of Lean Logic will be used to promote David's work and passions.
Copies may be obtained for £30 or £25 each for two or more (plus £5 per copy for postage and packing if required) by sending a cheque payable to Lucy Barlow to: Lean Logic, Court Farm House, North Street, Fritwell, Oxon OX27 7QX.
"Localisation stands, at best, at the limits of practical possibility, but it has the decisive argument in its favour that there will be no alternative." David Fleming (1940-2010)
---
Fuel Rationing Will Be Needed Before 2020 According To Major New Report
New parliamentary report warns of coming energy scarcities and outlines a rationing system which could ensure fair access to energy and guarantee emissions reductions
18 January 2011, London: A report launched today by the Lean Economy Connection, commissioned by the All Party Parliamentary Group on Peak Oil, calls for a nationwide system for ensuring fair and equal access to fuel as energy scarcities develop. Dr Caroline Lucas MP; Dr Jeremy Leggett, chairman and founder of Solarcentury and SolarAid; and John Hemming MP spoke at the launch, held at Portcullis House, Westminster this morning.
The report, entitled Tradable Energy Quotas, sets out a detailed proposal for a scheme which would ensure fair and equal entitlements to fuel and energy under conditions of scarcity, while also guaranteeing that the government meets its commitment to an 80% reduction in carbon emissions by 2050.
The report proposes an electronic energy rationing system called TEQs (Tradable Energy Quotas). Under TEQs, units of 'energy credit' are distributed free to all adults. Surplus units can be bought and sold, meaning that there is no upper limit set on the number of units owned by one person. Businesses and government bid for their energy units at a weekly tender, creating revenue to help fund the infrastructure and skills that the economy needs to end its dependence on fossil fuels.
Caroline Lucas MP, leader of the Green Party, said: "TEQs have long been Green Party policy, as we believe that we need a fair and transparent system to reduce energy demand and give each person a direct connection to the carbon emissions associated with their lifestyle. The TEQs scheme would guarantee that the UK's targeted carbon reductions are actually achieved, while ensuring fair shares of available energy."
Jeremy Leggett, chairman of Solarcentury, said: "What I like about TEQs is the fairness of it. When the energy crunch hits us, government and industry must ensure equitable access to available energy within a national budget. TEQs is the kind of approach we will need if we are to mobilise the infrastructure of a zero-carbon future fast, under pressure. It would increase the chances of working our way through the grim times to renaissance-through-resilience."
The report warns that, without a scheme such as TEQs, the UK will not only fail to achieve the steep emissions reductions promised by the Climate Change Act, but will find itself unprepared for energy scarcities when they arise, and unable to sustain an orderly market. Fuel poverty would rapidly develop, leaving the most vulnerable people in society at risk.
Speaking at the launch today, John Hemming MP, chairman of the All Party Parliamentary Group on Peak Oil, said: "What is needed is an intelligent response both to climate change and to fuel depletion. We therefore welcome the model set out in the Lean Economy Connection's report, which addresses both sides of the problem. It is the first coherent proposal to attempt to do this, and it merits close attention."
Shaun Chamberlin, Director of the Lean Economy Connection and co-author of the report, said: "It is essential that we prepare now to mitigate the energy shortages of the future. We are calling on the government to move beyond research and into the development of a framework to reduce carbon emissions, to ensure that the UK is ready to implement energy rationing at short notice."
Commenting on the need to involve citizens fully in the task of controlling climate change, Mr Chamberlin added: "Tradable Energy Quotas are the only way we can reduce carbon emissions and at the same time guarantee that everyone gets fair access to limited energy supplies. This is also an alternative to carbon taxation; we are in difficult times, and we should not take money away from people when they need it the most. TEQs is about motivating people to cooperate in the common challenge of drastically reducing our dependence on fossil fuels."
Copies of the report, Tradable Energy Quotas (TEQs): A Policy Framework for Peak Oil and Climate Change, can be downloaded or ordered from www.teqs.net/report.
---
We are a sub group of Transition Town Louth, a voluntary organisation which exists to raise awareness on the impact of Climate Change and Peak Oil to our community.
The aim of this sub group is simply to encourage and inspire the people of Louth to grow their own food. We intend to do this through the creation of community food gardens in and around Louth town. We hope the gardens will be a safe haven for everyone, young and old, to share in the community re-skilling of home food production and consumption.
The plot behind Foundation House at King Edward's School will soon have been established for a year and a very successful year too. If you'd like to join in please do come along. More information from the Louth Community Food Gardens blog.
---
---
Transition Town Louth has launched the area's own Freegle group. If you have something to give away or want something for free just sign up and get freegling.

Louth Freegle
Part of The Freegle Association


Or here if you prefer to use facebook

Transition Town Louth is acting as a focus for Landsharers in the area. Let us know if you would like to join Landshare and meet others to share ideas.

Go places with


For skill sharing.
---
Join the Transition Town Louth Facebook Group. Communicate on our Yahoo Message Group. Follow TTL on
---
Other pages on this website:
---
---

Click here for much larger picture (4Mb). Photo credit: Chris Vernon

There are now over 300 Transition Initiatives, Louth being the ninety-ninth. Transition Towns are completely autonomous organizations, linked by the Transition Network, which provides and shares ideas, resources and support. The common thread is a belief that energy security in the time following the peak in oil production and the risk of global warming, present threats so large that we will be forced to make a transition to a very different world from that to which we are accustomed.

The Transition movement is driven by optimism and a determination to learn to adjust to whatever the future brings. Preparing in good time to meet the challenges is the wise approach.

Our government, driven by the need to address the climate change issue and knowing that fossil fuels will be increasingly hard to come by, has a policy of reducing CO2 emissions by 80% by 2050. Even that drastic change may be understated as we compete for what little fossil fuel remains. This is not a target that can be missed but a reality that we are forced to accept. Indeed, the problems may press harder and faster than the government is prepared, as yet, to admit. It behoves each of us, as individuals or working through community groups and within local government, to accept that reality promptly, and to work together to make the transition as painless as we can, moving positively to a future where life may actually be better.

Transition Town Louth is a grassroots grouping of people who share a determination to act. We are not concerned with debating whether global warming caused by man's actions is a problem, nor whether energy security is soon to be the most significant constraint on economic activity. We have accepted the issues, moved beyond debating the realities, and are ready for actions.
---
| | |
| --- | --- |
| | |
---
Transition Town Louth Constitution
To contact Transition Town Louth, Send Mail
---
Cornmarket, Louth, Sunday 26th October 2008

Eat local.

Town Hall, Louth, Friday 5th December 2008

Dress local

Town Hall, Louth, Saturday 7th March 2009

Preserve local

Louth St James Market, Sunday 25th July 2010
Listening to David Fleming's talk, August 2009.
---
---
---