Transition Town Louth, Lincolnshire.
---
Pumpkin Energy
We held a seasonally festive meeting at Tithe Farm, North Somercotes on the 29th of October. There were plenty of pumpkins and pumkin soup and other lovely food and drink. Thanks to everyone who came, contributed and consumed. Supporting the energy unit of the Transition Together project, discussions were energy themed. The newly installed 4kWp solar pv system was demonstrated and shown not to work in the dark but the rocket stove mass heater was alight and hot (though the flue still needed a little tweeking!). We were particularly honoured by the visit by Anselmo from Tansania, from whom we learnt how transformational a solar-pv system can be, to off-grid rural settlements in Africa. The importance of rocket stoves for cooking in the poorer parts of the world, where firewood burning efficiency to save fuel and reduce pollution are vital issues, was discussed. John and Lesley described the ground source heat pump system they are about to have installed. Between us, we are building the knowledge, skills and equipment to make the energy decent transition to a low carbon future.
---
Transition Network Conference 2010
Transition Radio is a great opportunity to listen to interviews and talks from the conference workshops.
And here's the Transition Blog to keep you up to date on what's going on.
---
Peak Oil - Implications Of Resource Scarcity On Security
Center for German Army Transformation, Group for "Future Studies" July 2010
"Investment will decline and debt service will be challenged, leading to a crash in financial markets, accompanied by a loss of trust in currencies and a break-up of value and supply chains – because trade is no longer possible. This would in turn lead to the collapse of economies, mass unemployment, government defaults and infrastructure breakdowns, ultimately followed by famines and total system collapse".
From the German Military report leaked to Der Spiegel.
More information from The Trumpet.
---
---
Sunday 22nd August, 1pm onwards. Sutton-on-Sea, at Beach Hut 47 South Promenade.
Picnic on the Beach. Bring food and drink for sharing and anything you need for an afternoon at the seaside.
Beach Hut 47 South Prom is near the southern end of the beach huts at Sutton-on-Sea. If you start at the promenade above the bowling green, turn left and head south a couple of hundred yards.
There will be opportunity to discuss with David Fleming his new book, The Lean Economy, and the latest climate research from Erica Thompson of Imperial College who is currently researching extreme weather events and Chris Vernon of Bristol University who is researching melting of the Greenland Ice Sheet. Or you could just play in the sand.
---
Archived Stuff from 2010
Archived Stuff from 2008 and 2009
Music and the Arts in the Louth area
Message from Alan Munby
I've been asked to sit on the Louth Interim Town Centre Partnership board, representing Music and the Arts. The first thing I want to do is to compile a group email/telephone list of everyone who would be interested in joining, so I can arrange an initial meeting to talk about what the TCP can do for this sector. There are already benefits emerging – eg the TCP will shortly be starting a fortnightly half page piece in the Target, which will be a great way of publicising what's going on in the music and arts scene. There's also the issue of Mansion House, and the idea of an Arts Centre for Louth finally becoming a reality - something that I'm sure people would be pleased to offer support for. In simple terms, it's about finding out what the artistic community (in the broad sense) would want the TCP to do, and the only way we can answer that question is to get together and talk about it.
I'm very aware that there are many long-established groups in this area who are doing a great job and might be a tad cynical about all this – we've had things like this before, and nothing ever comes of it, so we'll just look after ourselves, thanks – but I would urge everyone to at least come along and find out about the TCP before they make up their minds one way or another. I count myself as being a cynic by nature, but I think there's a real buzz about the TCP, and I think there could be some positive benefits for the arts and music scene out of it. So please get the old viral, smoke signals, carrier pigeon, garden fence, grapevine going, and please, people who receive this, do forward it to anyone who you think might be interested.
To register your interest, just email or phone me and I'll put you on the mailing list. As soon as I have a reasonable number I'll find a date and time that suits most. Thanks, Alan alan743@btinternet.com 01507 600055 or 07941 116559
---
Resource Efficiency Event - Sustain Lincolnshire at Epic Centre.
James and Maggie attended this event. Here's James's account of the day:
I had the opportunity to attend Lincolnshire's first resource efficiency event held at the EPICs centre yesterday. It was attended by 20 or so exhibitors aiming to encourage a more sustainable future. Chris Goodall was the keynote speaker http://en.wikipedia.org/wiki/Chris_Goodall. He emphasised the reality of man made climate change and the opportunities for commercial interests in a green revolution. He compared changing attitudes in society towards ethical issues such as free range eggs, fairtrade produce, animal testing, child labour etc and explained how he believed sustainability would become the next ethical issue to effect consumer behaviour. He gave examples of industries that are changing to meet these new demands such as electric powered transport and renewable energy supply and urged the audience to think how their business can adapt and thrive in an age of sustainability. The audience were receptive to his talk although I sensed that there was an undercurrent of scepticism in the room, judging by the whispered comments of those next to me. The questions session underlined this as the "idealistic" notion of electric transport in a county like Lincolnshire would be impractical unless battery capacity was extended beyond the current 100 mile proposals. I formed the opinion that most in the audience would only change their consumption of fossil fuels when and if the alternatives were economically competitive and convenient. The "business as usual" belief seems pretty much ingrained even within an audience of those who display an awareness of sustainability issues. Anyway the good news is I learnt how to split a straw bale in two smaller ones and helped build the straw cabin in the photo! I've also obtained a dedicated to Transition Town Louth copy of Barbara Jones book "Building with straw bales" ,I thought it would be a useful addition to the TTL library. I also have some local contacts for energy conservation, rainwater harvesting and CHP installations.
James
---
A new logo for Louth
Transition South East Conference
Filmed at the Transition Towns Conference in Brighton on 13th March 2010. A day for everyone involved in the Transition Network in the South East of England to come together, meet each other and share stories and advice.
---
State of the Climate - Global Analysis - March 2010
National Oceanic and Atmospheric Administration, National Climatic Data Center
The latest data on just how quickly our planet is warming.
Adapting Institutions to Climate Change
A report from The Royal Commission on Environmental Pollution
Sir John Lawton, Chair of the Commission, wrote:
The scale of the challenge of living with a changing climate has not been sufficiently widely recognised. The Government and the Devolved Administrations have put in place programmes to begin to develop adaptation responses - which is very welcome. But more needs to be done. Some current policies and programmes will not be sustainable in a world where the weather is more extreme.
Preparing for climate change is particularly difficult, because while there is no doubt that weather patterns are changing and will change further, there is great uncertainty about precisely how far and how fast those changes will be and the local effects. It is a real challenge for institutions to understand how they should prepare, made more difficult by complex governance structures.
Our report aims to help organisations face these challenges. We have recommended a new duty on public bodies and an adaptation test to be applied to new policies and programmes, and want to ensure we have the skills and knowledge to prepare.
Download the whole report from RCEP
Life After Growth
by Richard Heinberg. First published at The Post Carbon Institute
What if the economy doesn't recover?
In 2008 the U.S. economy tripped down a steep, rocky slope. Employment levels plummeted; so did purchases of autos and other consumer goods. Property values crashed; foreclosure and bankruptcy rates bled. For states, counties, cities, and towns; for manufacturers, retailers, and middle- and low-income families, the consequences were—and continue to be—catastrophic. Other nations were soon caught up in the undertow.

In late 2009 and early 2010, the economy showed some signs of renewed vigor. Understandably, everyone wants it to get "back to normal." But here's a disturbing thought: What if that is not possible? What if the goalposts have been moved, the rules rewritten, the game changed? What if the decades-long era of economic growth based on ever-increasing rates of resource extraction, manufacturing, and consumption is over, finished, and done? What if the economic conditions that all of us grew up expecting to continue practically forever were merely a blip on history's timeline?

It's an uncomfortable idea, but one that cannot be ignored: The "normal" late-20th century economy of seemingly endless growth actually emerged from an aberrant set of conditions that cannot be perpetuated.

That "normal" is gone. One way or another, a "new normal" will emerge to replace it. Can we build a different, more sustainable economy to replace the one now in tatters?

Let's be clear: I believe we are in for some very hard times. The transitional period on our way toward a post-growth, equilibrium economy will prove to be the most challenging time any of us has ever lived through. Nevertheless, I am convinced that we can survive this collective journey, and that if we make sound choices as families and communities, life can actually be better for us in the decades ahead than it was during the heady days of seemingly endless economic expansion.

This essay continues here.
---
Louth Nipper
A new bus service for Louth starts on Tuesday 6th April. It will be a 16 seat minibus, and will set out from the Bus Station, down Eastgate and along St Bernard's Avenue, past the new Leisure Centre and all the way out to the Garden Centre on Legborne Road. It then returns to town via King Edward's School and back along Wesgate and Mercer Row to the Bus Station. The Louth Nipper then heads down Ramsgate, Victoria Road and the houses north of Keddington Road before returning to Eastfield Road, Park Avenue, Monks Dyke Road and back to the Bus Station. The whole affair is repeated every hour from twenty past seven in the morning till the last trip twenty past five in the afternoon. There will be a flat rate fare of £1 for any journey no matter how long you stay on the bus.
This bus route is subsidised by Lincolnshire County Council and will run for an experimental one year. Whether it continues depends on how much it gets used. As the effects of Peak Oil begin to bite, such community bus schemes are going to be ever more vital to all our the well being. Please do whatever you can to tell people about the Louth Nipper, leave cars at home and use the bus.
---
FEAST
Check out Jackie Vitale's ideas about a Louth Feast
---
Traidcraft Tea Story
---
After Copenhagen – Lincolnshire's Action on Climate Change
Biff's recollections of the day
Together with representatives from the Transition Initiatives in Lincoln, Hemswell, Horncastle and Stamford, I attended the conference at EPIC Lincolnshire – 'Working for a Low Carbon World - After Copenhagen'. About 120 delegates attended, many from Lincolnshire County Council, and from other areas local government, the Environment Agency, other institutions and major businesses. It was good to good to see the Transition Towns so well represented and my thanks go to Lincs County Council for making this possible.
Keynote speeches were given by Professor Lord Anthony Giddens and Hardin Tibbs. Giddens, recently back from Copenhagen where he was part of the Government's negotiating team, spoke on 'Copenhagen & the politics of Climate Change'. He painted a bleak picture of the conference, and explained how the process would have to be very different in future if progress was to be made. He was particularly concerned about the impact that the climate change deniers were having, described how the consensus scientific position of the IPPC was necessarily conservative and cautious and that the radical view of scientists like James Hansen who say that the problems are more dangerous and more imminent and that when tipping points are past the climate can change dramatically on a decadal timescale.
Giddens tried to conclude on an upbeat, describing the great resurgence of effort in green growth and calling for a recapturing of imagination to create a kind of utopia with realism, a 'Utopian Realism'. Transition Towns, he said, were at the heart of the required social transformation.
Hardin Tibbs continued the theme with his talk, 'The Challenge of Achieving Economic Sustainability in a Low Carbon World'. He spoke of 'Black Swans', the unknown surprises, and the potential for peak oil to change. This was clearly news to many in the room if the show of hands when Tibbs asked who was aware of peak oil, is anything to go by. He wove the twin threats of climate change and energy security together and left no doubt that business as usual was not going to be an option. Tibbs also cited the Transition Towns as key to the bottom up approach that would be a part of the solution.
The third talk of the morning, 'The Lincolnshire Response, How Lincolnshire Organisations and Communities are meeting the Climate Change Challenge', was given by Richard Belfield of Lincolnshire County Council. Belfield started his talk with an acknowledgement of the presence the various Transition Towns in the county. He described the commitment that Lincolnshire had towards moving to a low carbon future and also raised the difficult issue of rising sea level. Some 40% of Lincolnshire lies close at risk of flooding and the County Council is working with the Environment Agency on plans covering the rest of the 21st century. No longer is five years the planning timeframe; 20, 50 and 80 years are now the considered horizons. Belfield had presented a slide showing that plans were in hand for a 37cm sea level rise, but in the question and answer session, in response to my suggestion that this figure only represented a linear extrapolation of the current trend and did not take into account ice dynamics in the Greenland and West Antarctic Ice Sheets, he admitted that the 37cm figure was just the one on publications. The figure that the technical team were working to was 1.2m by the end of the century. I also reminded him that, despite his assurances that Boston, Skegness and Spalding would not be lost, sea level would not stop rising in the year 2100 but, perhaps justifiably, he replied that getting local government to consider a century long plan was quite an achievement for now!
In the afternoon, delegates split into two out of these six workshops:
Making a commitment to action – Local projects and the 1010 commitment
Lincolnshire's sustainable building stock – growing a house in Lincolnshire
A Low Carbon Transport Future – Biomethane as an alternative road fuel
Coping on the coast – responding to the challenge of storm surges and rising sea levels
Understanding your carbon footprint
Tackling Affordable Warmth and Carbon Reduction in Lincolnshire
I attended those on sustainable buildings and the coastal flooding.
Michael Gadd, from North Kesteven District Council, described the strawbale houses that his Council has built at Waddington.
Steff Wright described how his company, Gusto Homes, is pushing down the carbon emissions of new houses.
And we heard from Rob at Hill Holt Wood about the remarkable building projects in which the young people have converted the local earth and wood found on site into superb buildings, valuable assets for the community.
In my second workshop, we learnt from John Ray of the Environment Agency and David Hickman, Lincolnshire County council, about the efforts being made to defend our shoreline and what might happen in the event of a breach of the defences. Serious questions were raised about public preparedness, warnings, possibilities for evacuation, and the problems of emergency repairs after a disaster in a worst case scenario. As sea level rises through the century the problems get worse. While the strategy is to improve defences to maintain the existing probability of a breach, the consequences of a breach become greater as water depth increases.
In the short plenary session, Joanne Wade, Lincolnshire's Climate Change Strategy consultant, summed up the day with another commendation of the Transition Towns.
In due course videos of the keynote lectures will be put on the Epic Lincolnshire website.
---
The Oil Crunch - A wake-up call for the UK economy
Second report of the UK Industry Taskforce on Peak Oil & Energy Security (ITPOES) February 2010
The next five years will see us face another crunch - the oil crunch. This time, we do have the chance to prepare. The challenge is to use that time well.

As we reach maximum oil extraction rates, the era of cheap oil is behind us. We must plan for a world in which oil prices are likely to be both higher and more volatile and where oil price shocks have the potential to destabilise economic, political and social activity.

Virtually every sector of our economy is still dependent on oil. This is why it is vital that whichever party forms the next government, they have a coherent set of policies to help the UK adapt. This is especially important for the UK, and other developed economies, which have been so reliant on low-cost oil for decades. There are two challenges for government and policy-makers. Firstly, to recognise the situation we face, and secondly to take action to mitigate the worst implications of the crunch.

Unless we do so, we face a situation during the term of the next government where fuel price unrest could lead to shortages in consumer products and the UK's energy security will be significantly compromised. This has the potential to hit UK business and commerce as well as the most disadvantaged in society with yet another crisis. While responsibility for addressing these changes must be taken up by government, we must also build a coalition of interests including businesses and the public if we are to implement the changes needed to help us adapt and prosper.

Richard Branson, Founder, Virgin Group Ian Marchant, CEO, Scottish & Southern Energy Brian Souter, CEO, Stagecoach Group Philip Dilley, Chairman, Arup Jeremy Leggett, Chairman, Read the rest of the report here. And read Erica's account of the report's launch on The Oil Drum.
---
Transition Together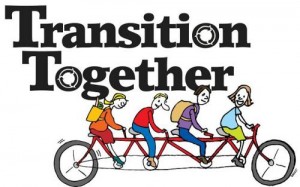 Great News - We have won a place on this project
This gives us a £1000 grant and lots of support.
The Transition Together project forms small, social groups of friends, neighbours and colleagues and then supports them in taking a number of effective, practical, money-saving and carbon-reducing steps. A workbook helps each person to build their own Practical Action Plan that improves household energy efficiency, minimises water use, reduces waste (and consumption), explores local transport options and promotes the great value, healthy food available locally. It also helps everyone to understand what's behind the rising energy prices and climate change, and what this means for them, their family and their local community.
Please take a look at the website and then e-mail us any ideas you may have. We will have to work hard to spend the money wisely and constructively, helping to give Louth a more resilient future.
More on the T-tog page
Good Reading
Arctic Warming is one of a series of articles relating to global warming and peak oil written by ex-Ludensian physisist, engineer and climate scientist, Chris Vernon.
Ocean Acidification the Facts EPOCA (European Project on OCean Acidification) 10th December 2009.
This introductory guide is written especially for policy advisers and decision makers worldwide and is a wake-up call about the double impact on our seas of climate change and ocean acidification caused by increasing atmospheric carbon dioxide levels. It sets out the basic facts about the alarming and progressive acidification of the ocean that is threatening our marine ecosystems. The Earth's geological record shows that previous episodes of ocean acidification were linked to mass extinctions of some species, and it is reasonable to assume that this episode could have the same consequences. There can be little doubt that the ocean is undergoing dramatic changes that will impact many human lives now and in the coming generations, unless we act quickly and decisively.
Antarctic Climate Change and the Environment
"This volume provides a comprehensive, up-to-date account of how the physical and biological environment of the Antarctic continent and Southern Ocean has changed from Deep Time until the present day. It also considers how the Antarctic environment may change over the next century in a world where greenhouse gas concentrations are much higher than occurred over the last few centuries. The Antarctic is a highly coupled system with non-linear interactions between the atmosphere, ocean, ice and biota, along with complex links to the rest of the Earth system. In preparing this volume our approach has been highly cross-disciplinary, with the goal of reflecting the importance of the continent in global issues, such as sea level rise, the separation of natural climate variability from anthropogenic influences, food stocks, biodiversity and carbon uptake by the ocean. One hundred experts in Antarctic science have contributed and drafts of the manuscript were reviewed by over 200 scientists. We hope that it will be of value to all scientists with an interest in the Antarctic continent and the Southern Ocean, policy makers and those concerned with the deployment of observing systems and the development of climate models." Scientific Committee on Antarctic Reseach 1st December 2009.
Incredible Edible Todmorden article in The Independant, Sunday 29th November. More on Todmorden and their recent Conference.
The Copenhagen Diagnosis Essential pre-COP15 reading from twenty six of the world's leading climate scientists who contributed to IPCC AR4. It sums up the current state of the science. 25th November 2009
The Ralph Miliband Lecture 'The Politics of Climate Change' Ed Miliband 19 November 2009
How Relocalization Worked John Michael Gree, The Archdruid Report. 18 November 2009
The November Transition Network News is now available.
Community Garden update
Hello lovely TTL! just to let you know that Maggie, James, Sarah flores and myself had a v successful subgp meeting today regarding the louth community garden. We have ideas for land, aims and objectives and we're meeting with King edwards tomorrow to discuss a potential bit of land to dig! Watch this space and more to talk about on tuesday...see you there, Anisha
Permaculture Course
There is an fantastic opportunity to do a permaculture course in eco-town Sieben Linden in Germany, with European grant funding (if you can use the training to do adult education - I think TT can do a project that would involve that...) if you get an application in by 15 Jan! Here are the details. If you want any help with the grant application form, feel free to contact me as I have completed one (it does take a while!) but I've decided I can't do the course due to family commitments. Looks amazing! Here are the details Laura.
---
Saturday 30th January 10am - 4.30pm Vanson Centre, Bradley Road, Grimsby.
Permaculture Design Workshop
For more information and to book a place, please call Green Futures on 01472 870609 or email info@greenfuturesgrimsby.co.uk before Wednesday 27th of Jan. We look forward to seeing you there!
---
Support Donna Nook Wildlife Habitat
The Lincolnshire Wildlife trust is asking for support for the Donna Nook scheme. Information and links to ELDC here.
Press release from ELDC
Promoting Louth as a Food Town
LOUTH'S recently appointed Town Centre Manager, Mark Barnes, is looking to set up a group of people to start work on promoting Louth as a 'Food Town'.
The idea behind this group is to start promoting Louth as a destination where visitors and residents can enjoy the highest quality local produce.
Louth as a Food Town will be promoted locally, regionally and nationally, so that residents and visitors can appreciate what excellence Louth displays from all aspects of the food industry.
Mark, explained that while we are going through the process of building a Town Centre Partnership for Louth there are some obvious projects that can be developed in parallel and will only build on the success of the town and of the Partnership: "Louth will be recognised as offering an unrivalled range of local produce supplied by businesses that care about only dealing in the best quality food and the work needs to start now. I am looking for a group of people from the industry who will work with me to promote their wares and sell the distinctiveness of the food produced locally."
Anyone interested in taking part in the project should contact Mark on 07917 628149 or email mark.barnes@e-lindsey.gov.uk
---
Transition Town Totnes - DECC's Low Carbon Community
Rob Hopkins is delighted to be able to announce that Transition Town Totnes has been selected as one of 10 'first movers' in the Department of Energy and Climate Change's 'Low Carbon Communities Challenge'. Read Rob's article, which has implications way beyond Totnes, here
COP15 Was Copenhagen a Disaster?
Maybe a political agreement that did not actually protect huminity from the realities of peak oil and global warming, but allowed our 'world leaders' to go home satisfied, would have been worse. At least it is now clear that we cannot wait for others to solve the problems for us. That's what Transition is all about. But that's just my view. It might be worth reading what our Climate and Energy minister, Ed Miliband has to say, here in the Guardian.
---
Louth Town Centre Partnership
Dear All,
In response to the enthusiasm displayed at last weeks meeting at Kenwick Park, I propose the creation of an interim Town Centre Partnership. The purpose of this is to allow democratic decisions, representing the whole community, to be made about our activities for 2010 and beyond. This will be an informal Partnership which will end at a date no later than 30th June 2010 where the constituted body will take over. The focus of the Interim Town Centre Partnership will be to identify the correct model and also identify the key leaders. It will also allow new members to have the opportunity to emerge and join the work of the official Louth Town Centre Partnership. This will work in parallel with the Food group who will be encouraged to use all the assets available within the interim Town Centre Partnership.
In an attempt to enable as many of you as possible to be involved, I have reserved the upstairs meeting room of the Trinity Church and Community Centre (Eastgate, Louth, Lincolnshire LN11 8DJ) where I will hold two meetings on Wednesday 9th December, one at 14.00 and one at 18.00. If these times are inconvenient, then I will be there from 9.00 until 19.30 for you to call in to discuss your thoughts. I hope that you are able to pop in and ideally attend one of the meeting times.
Please let me know whether you will be able to attend and what time is most convenient for you. Following this meeting, from January 2010, we will be in a position to start work on an exciting future for Louth and I am sure that you will leave with much to consider.
Kind regards, Mark Barnes, Louth Town Centre Manager, 1st December 2009.
---
Press release from East Lindsey District Council 29th November 2009
Work to begin on forming Town Centre Partnership for Louth
The people of Louth demonstrated a real passion to support their town at the Your Louth Needs You workshop held last Thursday. The event, organised by East Lindsey District Council and Louth Town Centre Management, was attended by 65 people and was an opportunity for the local community to determine how a newly formed Town Centre Partnership for Louth will work for the future prosperity of the town. Organisers were very impressed by the enthusiasm of the people of Louth who had given up over half their working day freely to attend the workshop. Having organised many events like this nationally the Mosaic Partnership, who ran the workshop, stated that it was one of their most successful workshops yet.
Louth Town Centre Manager, Mark Barnes, said "I am so excited; people worked so hard and demonstrated a huge passion for their town. I am privileged to have the opportunity to work with such enthusiastic people; Louth should be proud of its community."
Jennie Dunbar of the Friends of Charles Street Recreation area was equally positive, saying: "I had a fantastic time and found the experience very rewarding. Everyone I have spoken to found the day equally enjoyable and worthwhile. I certainly feel renewed vigour and am genuinely excited about the future for Louth."
Cllr Jill Makinson-Sanders of Louth Town Council and Meridian Links, added: "I think what the whole exercise did show was that there is a great deal of public support for positive action and that Louth would work better if we drew all the strands together more effectively. Onwards and upwards, it's an exciting road ahead and if we all can have fun getting there what a journey it will be!"
Mark Barnes who is employed by the District Council now plans to start work immediately to form the partnership: "People will start to see a real difference in Louth by early 2010 and there will be a lot of opportunities for the whole community to get involved in and benefit from. The future vitality and prosperity of the town really is in the hands of the community."
There will be a report compiled from the day and this will be on general release by very early in the New Year.
If you were unable to attend the meeting but wish to be involved then Mark is still looking for volunteers to work within the Partnership especially from people under the age of 21. Please contact Mark on 07917 628149 or email mark.barnes@e- lindsey.gov.uk
---
Home