Transition Town Louth, Lincolnshire.
---
Archived Stuff from 2010
Archived Stuff from 2008 and 2009
Transition Together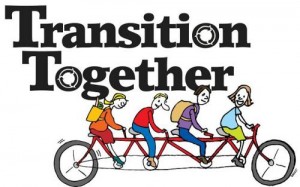 Great News - We have won a place on this project
This gives us a £1000 grant and lots of support.
The Transition Together project forms small, social groups of friends, neighbours and colleagues and then supports them in taking a number of effective, practical, money-saving and carbon-reducing steps. A workbook helps each person to build their own Practical Action Plan that improves household energy efficiency, minimises water use, reduces waste (and consumption), explores local transport options and promotes the great value, healthy food available locally. It also helps everyone to understand what's behind the rising energy prices and climate change, and what this means for them, their family and their local community.
Please take a look at the website and then e-mail us any ideas you may have. We will have to work hard to spend the money wisely and constructively, helping to give Louth a more resilient future.
More on the T-tog page
Good Reading
Arctic Warming is one of a series of articles relating to global warming and peak oil written by ex-Ludensian physisist, engineer and climate scientist, Chris Vernon.
Ocean Acidification the Facts EPOCA (European Project on OCean Acidification) 10th December 2009.
This introductory guide is written especially for policy advisers and decision makers worldwide and is a wake-up call about the double impact on our seas of climate change and ocean acidification caused by increasing atmospheric carbon dioxide levels. It sets out the basic facts about the alarming and progressive acidification of the ocean that is threatening our marine ecosystems. The Earth's geological record shows that previous episodes of ocean acidification were linked to mass extinctions of some species, and it is reasonable to assume that this episode could have the same consequences. There can be little doubt that the ocean is undergoing dramatic changes that will impact many human lives now and in the coming generations, unless we act quickly and decisively.
Antarctic Climate Change and the Environment
"This volume provides a comprehensive, up-to-date account of how the physical and biological environment of the Antarctic continent and Southern Ocean has changed from Deep Time until the present day. It also considers how the Antarctic environment may change over the next century in a world where greenhouse gas concentrations are much higher than occurred over the last few centuries. The Antarctic is a highly coupled system with non-linear interactions between the atmosphere, ocean, ice and biota, along with complex links to the rest of the Earth system. In preparing this volume our approach has been highly cross-disciplinary, with the goal of reflecting the importance of the continent in global issues, such as sea level rise, the separation of natural climate variability from anthropogenic influences, food stocks, biodiversity and carbon uptake by the ocean. One hundred experts in Antarctic science have contributed and drafts of the manuscript were reviewed by over 200 scientists. We hope that it will be of value to all scientists with an interest in the Antarctic continent and the Southern Ocean, policy makers and those concerned with the deployment of observing systems and the development of climate models." Scientific Committee on Antarctic Reseach 1st December 2009.
Incredible Edible Todmorden article in The Independant, Sunday 29th November. More on Todmorden and their recent Conference.
The Copenhagen Diagnosis Essential pre-COP15 reading from twenty six of the world's leading climate scientists who contributed to IPCC AR4. It sums up the current state of the science. 25th November 2009
The Ralph Miliband Lecture 'The Politics of Climate Change' Ed Miliband 19 November 2009
How Relocalization Worked John Michael Gree, The Archdruid Report. 18 November 2009
The November Transition Network News is now available.
Community Garden update
Hello lovely TTL! just to let you know that Maggie, James, Sarah flores and myself had a v successful subgp meeting today regarding the louth community garden. We have ideas for land, aims and objectives and we're meeting with King edwards tomorrow to discuss a potential bit of land to dig! Watch this space and more to talk about on tuesday...see you there, Anisha
Permaculture Course
There is an fantastic opportunity to do a permaculture course in eco-town Sieben Linden in Germany, with European grant funding (if you can use the training to do adult education - I think TT can do a project that would involve that...) if you get an application in by 15 Jan! Here are the details. If you want any help with the grant application form, feel free to contact me as I have completed one (it does take a while!) but I've decided I can't do the course due to family commitments. Looks amazing! Here are the details Laura.
---
Saturday 30th January 10am - 4.30pm Vanson Centre, Bradley Road, Grimsby.
Permaculture Design Workshop
For more information and to book a place, please call Green Futures on 01472 870609 or email info@greenfuturesgrimsby.co.uk before Wednesday 27th of Jan. We look forward to seeing you there!
---
Support Donna Nook Wildlife Habitat
The Lincolnshire Wildlife trust is asking for support for the Donna Nook scheme. Information and links to ELDC here.
Press release from ELDC
Promoting Louth as a Food Town
LOUTH'S recently appointed Town Centre Manager, Mark Barnes, is looking to set up a group of people to start work on promoting Louth as a 'Food Town'.
The idea behind this group is to start promoting Louth as a destination where visitors and residents can enjoy the highest quality local produce.
Louth as a Food Town will be promoted locally, regionally and nationally, so that residents and visitors can appreciate what excellence Louth displays from all aspects of the food industry.
Mark, explained that while we are going through the process of building a Town Centre Partnership for Louth there are some obvious projects that can be developed in parallel and will only build on the success of the town and of the Partnership: "Louth will be recognised as offering an unrivalled range of local produce supplied by businesses that care about only dealing in the best quality food and the work needs to start now. I am looking for a group of people from the industry who will work with me to promote their wares and sell the distinctiveness of the food produced locally."
Anyone interested in taking part in the project should contact Mark on 07917 628149 or email mark.barnes@e-lindsey.gov.uk
---
Transition Town Totnes - DECC's Low Carbon Community
Rob Hopkins is delighted to be able to announce that Transition Town Totnes has been selected as one of 10 'first movers' in the Department of Energy and Climate Change's 'Low Carbon Communities Challenge'. Read Rob's article, which has implications way beyond Totnes, here
COP15 Was Copenhagen a Disaster?
Maybe a political agreement that did not actually protect huminity from the realities of peak oil and global warming, but allowed our 'world leaders' to go home satisfied, would have been worse. At least it is now clear that we cannot wait for others to solve the problems for us. That's what Transition is all about. But that's just my view. It might be worth reading what our Climate and Energy minister, Ed Miliband has to say, here in the Guardian.
---
Louth Town Centre Partnership
Dear All,
In response to the enthusiasm displayed at last weeks meeting at Kenwick Park, I propose the creation of an interim Town Centre Partnership. The purpose of this is to allow democratic decisions, representing the whole community, to be made about our activities for 2010 and beyond. This will be an informal Partnership which will end at a date no later than 30th June 2010 where the constituted body will take over. The focus of the Interim Town Centre Partnership will be to identify the correct model and also identify the key leaders. It will also allow new members to have the opportunity to emerge and join the work of the official Louth Town Centre Partnership. This will work in parallel with the Food group who will be encouraged to use all the assets available within the interim Town Centre Partnership.
In an attempt to enable as many of you as possible to be involved, I have reserved the upstairs meeting room of the Trinity Church and Community Centre (Eastgate, Louth, Lincolnshire LN11 8DJ) where I will hold two meetings on Wednesday 9th December, one at 14.00 and one at 18.00. If these times are inconvenient, then I will be there from 9.00 until 19.30 for you to call in to discuss your thoughts. I hope that you are able to pop in and ideally attend one of the meeting times.
Please let me know whether you will be able to attend and what time is most convenient for you. Following this meeting, from January 2010, we will be in a position to start work on an exciting future for Louth and I am sure that you will leave with much to consider.
Kind regards, Mark Barnes, Louth Town Centre Manager, 1st December 2009.
---
Press release from East Lindsey District Council 29th November 2009
Work to begin on forming Town Centre Partnership for Louth
The people of Louth demonstrated a real passion to support their town at the Your Louth Needs You workshop held last Thursday. The event, organised by East Lindsey District Council and Louth Town Centre Management, was attended by 65 people and was an opportunity for the local community to determine how a newly formed Town Centre Partnership for Louth will work for the future prosperity of the town. Organisers were very impressed by the enthusiasm of the people of Louth who had given up over half their working day freely to attend the workshop. Having organised many events like this nationally the Mosaic Partnership, who ran the workshop, stated that it was one of their most successful workshops yet.
Louth Town Centre Manager, Mark Barnes, said "I am so excited; people worked so hard and demonstrated a huge passion for their town. I am privileged to have the opportunity to work with such enthusiastic people; Louth should be proud of its community."
Jennie Dunbar of the Friends of Charles Street Recreation area was equally positive, saying: "I had a fantastic time and found the experience very rewarding. Everyone I have spoken to found the day equally enjoyable and worthwhile. I certainly feel renewed vigour and am genuinely excited about the future for Louth."
Cllr Jill Makinson-Sanders of Louth Town Council and Meridian Links, added: "I think what the whole exercise did show was that there is a great deal of public support for positive action and that Louth would work better if we drew all the strands together more effectively. Onwards and upwards, it's an exciting road ahead and if we all can have fun getting there what a journey it will be!"
Mark Barnes who is employed by the District Council now plans to start work immediately to form the partnership: "People will start to see a real difference in Louth by early 2010 and there will be a lot of opportunities for the whole community to get involved in and benefit from. The future vitality and prosperity of the town really is in the hands of the community."
There will be a report compiled from the day and this will be on general release by very early in the New Year.
If you were unable to attend the meeting but wish to be involved then Mark is still looking for volunteers to work within the Partnership especially from people under the age of 21. Please contact Mark on 07917 628149 or email mark.barnes@e-lindsey.gov.uk
---
Home